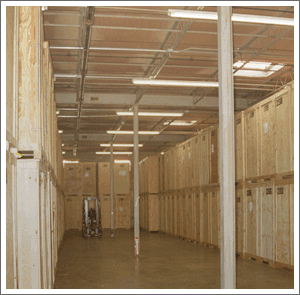 US Van Lines can handle your storage needs anywhere in the 48-States. After being wrapped for transit, furniture, along with boxes are loaded into large, wooden storage vaults. They are densely stacked to prevent damage and to keep all items free from dust and dirt. These storage vaults are then sealed shut and stacked inside the warehouse. Any extraordinary sized furniture items are also stacked on specially designed storage shelves that can properly store and ensure a damage free furniture item. Although storing this way is very safe and secure, accessing your goods can be difficult. Therefore, be sure to let the movers know which items are to be stored, and which need be delivered to your temporary residence.
Our Storage Facility is well monitored for security purposes. The facility is also climate controlled, all goods are crated, and all crates are labeled so as to properly account what is being stored.
Free Storage is a service we provide on all of our long distance moves. This means that all interstate moves have the extra luxury of knowing that they have some time before receiving their belongings. We try to offer a stress free, pressure free service so as not to cause extra strain on arriving at your final destination quickly if this is a difficulty.
Special Promotions are always available throughout the year at US Vanlines and this could also apply towards free storage. Ask your moving representative for details.