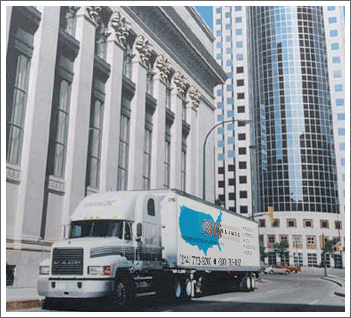 US Van Lines is an industry expert at relocating business units from one location to another. Whether the move is small or complex, from one floor to another, or from one city to a distant city. US Vanlines has the project management, professional crews, drivers, and equipment necessary to do the move right from start to finish.
US Van Lines offers commercial consulting, planning, and project management on every move we execute. Through emphasis on thorough pre-planning and programming of your move, we commit to providing the highest level of service before, during and after your move to insure your satisfaction.
US Van Lines has expert certified crews and teams available nationally for on-site daily business services. Some of US Vanlines largest commercial clients are long-standing and American household names; and contract US Vanlines services for on-site daily moving, storing and records management services.
US Van Lines participates in bid proposals daily as an independent national van line carrier for move management, commercial office relocation, and document storage services. Please contact US Vanlines at 1-800-785-0067 and let a commercial moving consultant begin to work on your move plan today.
Fully Licensed and Insured
We are committed to consistently provide a high quality
of service unmatched by those of industry standards.