The cost to make an interstate move is based on the inventory list of your shipment, and the distance to your new home. Your shipment is then tabulated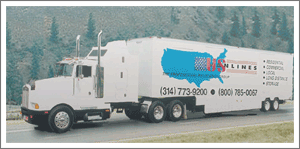 so as to correspond to a weighted shipment. The moving van arrives at your pick-up location and the driver conducts a thorough itemized inventory list of your belongings. Every piece of household goods furniture is recorded and listed on itemized inventory sheets. We always recommend that the best way to get an accurate estimate is to have an estimator come to your home to see what needs to be packed and moved. There is no charge for this service, and it is always offered without obligation. Please call us to schedule a time that is convenient for you. You may also pack your own boxes prior to the move, or have the movers do the packing, for which there is an additional cost.
Transportation is the service of disassembly, padding, loading, transporting, delivering, and reassembly of your household goods from one home to the next. The cost to make an interstate move is based on the inventory list of your load and the distance to your new home. The shipment is recorded on inventory lists and the pricing of the move is determined by what is actually being moved and not by how much it weighs. The benefit of such a move scenario is that you know exactly what your moving charges will be rather than having it weighed and then finding out the actual charge for your long distance move. Customers' can feel secure and have peace of mind knowing that the itemized list is what their charges are based on with no surprises upon delivery.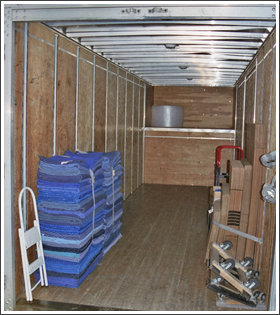 Inventories are prepared prior to moving your shipment from your home. Small numbered sticker tags are placed on every item to be moved by the driver, who is assigned to your move. The driver will also make notes concerning the physical description of each piece (describing the pre-existing condition and damage, if any). On delivery, it is your responsibility to check off every item on the list to be sure that you have received everything that you shipped. You will receive a copy of the list when the movers leave your pick-up location and receive a final copy upon completion of the moving process.
Packing is the term that refers to putting things into boxes in preparation of the move. All small things that fit into boxes need to be packed before the start of the move. You may choose to do your own packing, or have the movers pack for you. The cost for movers to pack is based on the materials charge and the labor time of the packing services. We always look to find ways to save our customers' money, thus consider packing your items before the movers arrive to transport your belongings. If you are planning on doing your own packing, here are some things to keep in mind:
Heavy things like books and canned goods should be packed into smaller boxes, while larger boxes can be used to pack lighter things like clothing and towels.
Be sure to clearly mark the boxes that contain fragile items.
Each box should be labeled with the name of the room that you'd like them to be placed in your new home. This helps to speed up the delivery, and makes the unpacking process easier for you.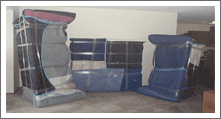 Additional Services are those, which you have requested, or are required to complete your move in a professional and safe manner. Additional services most commonly requested include: packing, unpacking, storage, long carry, and extra stop-offs. Additional services most commonly required to complete your move in a professional and safe manner may include crating (artwork, oversized glass tops, marble tops, etc.) packing (if you have not completed your own packing and would like the help of the movers), storage (if you are unable to take delivery), and shuttle service (if a large moving van is not capable of parking close enough to your home to safely load or unload your shipment).
Shuttle Service is a service that is made available when a large moving van is incapable of parking close enough to either of your homes to allow the movers to safely load or deliver your shipment. The service includes the use of a smaller van and a driver to shuttle your goods between the larger van and your home. On interstate moves, the cost for the shuttle service is based on the size of your load.
Items Not Allowed in Trucks include Aerosol cans, ammunition, explosives, flammable items, hazardous chemicals, matches, open liquids, paint, perishables, pressurized cans, thinners, turpentine, and anything that might leak or explode in the truck. Please use common sense. If you think it might not be a good idea to ship something, you are most likely right. It is better to replace potentially harmful items in your new location than to have your possessions ruined by them. You are also responsible for draining the fuel from your lawn mowers or any other machinery. Refillable propane gas tanks for barbeques must be purged and sealed by a local propane dealer.
Payment Terms include certified check, cash, money order, and credit cards (pick up location only). Moving companies require payment upon arrival at your new home, before unloading the truck. A final bill will be prepared as soon as the shipment has been loaded and the items listed on the inventory sheets. Please ask your US Vanlines representative for details and other possible limitation.