The lists of individual household items are endless. Most can be packed by following our packing suggestions. Here are some additional packing tips for major items. If you need additional help with any other concern, please do not hesitate to contact us at 1-800-785-0067.

Flammables and Combustibles - Flammable liquids and aerosol cans cannot be packed. Changes in temperature and pressure can cause them to leak, or even explode. For your own protection, you should know that if you pack these items and they cause damage to your shipment or others, you, not your mover, will be held liable.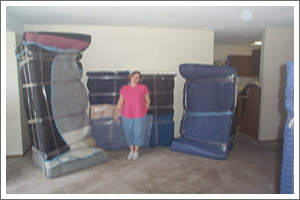 Lamps and Lampshades - Remove bulbs, harps and shades. Roll up cord. Pack lamps with bedding or wrap separately and place upright in clean tissue-lined carton. Wrap harp and finial (decorative knob) with packing paper and tape to inside wall of carton that contains shade. Wrap shades in tissue, not newspaper. Place upright in large, tissue-lined cartons.
Mirrors, Paintings and Pictures - It is important to tell your agent about valuable paintings for special care. Properly wrapping entails wrapping each individually so as not to cause damage to the framed object. Larger pictures and larger paintings need to be placed on the edge in steadier corrugated boxes. Your professional mover can easily pack any other framed art or mirror on the moving day. An added tip is to place some tape diagonally across the mirror to protect it from breakage. And lastly, never place newspaper against any painting since it will end up sticking to the artwork and ruin the picture.

Personal Computers and Video Recorders - Pack valuable electronic equipment in original cartons when available. Otherwise, use strong, corrugated cartons and place protective padding on the bottom of the carton. Wrap an old blanket or protective pad around the item and place it in its carton. Any additional padding will further protect the items, thus place additional padding between the carton and the computer or video recorder. Wrap cords separately; label to identify usage and place in a plastic bag away from delicate surfaces. Non-detachable cords should also be wrapped. Place cords between the padded computer or video recorder and the carton. Be sure your personal computer is "parked" and ready for transport.



Waterbed Mattresses - Drain all water from the waterbed and, grasping internal baffle systems with external vinyl, fold mattress 20 inches at a time. Adjust folds to avoid making creases across individual baffles. Consult your owner's manual for special instructions concerning the care and transportation of your mattress. Do not place your mattress in a carton with sharp or pointed objects.

Cars and Motorcycles - Cars and motorcycles shipped on the moving van should be drained nearly empty of fuel. Motorcycle batteries should be disconnected. Automobile antifreeze should be ample to protect against severe cold in winter.
Barbecue Grills and Propane Tanks need to be wrapped separately whereby the grates and briquettes should be placed in a specific bag. The bag should then be placed into boxes and marked as such. Pad carton with paper to reduce movement of contents. Consult your local gas grill distributor for the safest method.
Fully Licensed and Insured
We are committed to consistently provide a high quality
of service unmatched by those of industry standards.