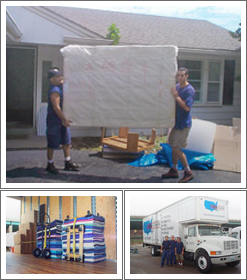 Moving to another home within one state or less than 100 miles, is considered a local move, or intrastate move. The cost to make a local / intrastate move may be accomplished in a few ways. While your US Vanlines representative will determine which type of pricing is appropriate for your move, you can be assured that all furniture will be handled in the best fashion possible. To properly prepare for the move you can be confident that our crews will use quilted moving pads, corrugated boxes, paper, bubble wrap and more to protect your household furniture.
TIME BASED moving is another term we use for moves that are completed on an hourly basis. The hourly rate is based on the actual time it takes to move your furniture and boxes from one home to another, including travel time from the movers' facility to the first home, and back at the end of the day. The hourly rate is based on the appropriate crew size needed to efficiently complete the move (number of movers and trucks). If more than one day is needed to complete the move, travel time is added for each additional day of service.
PACKING is the term that refers to putting things into boxes in preparation of the move. All small things that fit into boxes need to be packed before the start of the move. You may choose to do your own packing, or have the movers pack for you. The cost for movers to pack is based on the materials charge and the labor time of the move. We always look to find ways to save our customers' money, thus consider packing your items before the movers arrive to transport your belongings. If you are planning on doing your own packing, here are some things to keep in mind:
Heavy things like books and canned goods should be packed into smaller boxes, while larger boxes can be used to pack lighter things like clothing and towels.
Be sure to clearly mark the boxes that contain fragile items.
Each box should be labeled with the name of the room that you'd like them to be placed in your new home. This helps to speed up the delivery, and makes the unpacking process easier for you.
ESTIMATES should be obtained four to six weeks ahead of your anticipated move date. However, last minute estimates are always welcome. Keep in mind that the most accurate estimates can be prepared by having a US Vanlines representative come to your home to discuss your needs, and create a move plan that is most efficient and cost-effective for you. By completing a tour of the home, we will be able to create a written estimate that will be very accurate and show great detail. The in-home estimates are always free, and are a great way to learn about our services through discussion, photographs, and by reviewing many of our recent references.
BOOK YOUR MOVE as far ahead as you can, in order to get the dates that you want. Supply and demand has a great effect on the moving industry. When we book to capacity, we stop booking moves - it's that simple. May through September are the busiest months, and the last weeks of each month are the busiest weeks. The best time to book your move is immediately after obtaining estimates from as many movers as you care to. You may change your dates after you've booked, as long as there is availability on the new dates that you've selected. We are happy to take short notice moves as long as we have a crew available to do the move.
VALUATION is the term that refers to how you will be covered in the event of loss or damage during the course of the move. Movers are obligated to provide Basic Liability at no additional cost, which provides repair, replacement, or reimbursement at a rate of .60 per pound, per item. We also offer Full Replacement Value, please contact a representative from our Company who can further discuss this with you. The cost for the plan is based on the value that you set on your shipment before the move starts. Your US Vanlines representative will be happy to discuss this, and other options that may apply, in more detail.
PAYMENT TERMS include certified check, cash, money order, and credit cards. Moving companies require payment upon arrival at your new home, before unloading the truck. A final bill will be prepared as soon as the shipment has been loaded, using a standard formula for time-based moves. The easiest way to make payment is to have a certified check prepared for a bit less than the written estimate in advance of the move, and carry enough cash to make up the balance on move day. You are also always welcome to tip the movers to show your appreciation as well upon completion of the move. Please ask your US Vanlines representative for details.